A Palmer house brick, collected when the house was demolished for a parking lot.
Private collection of George H.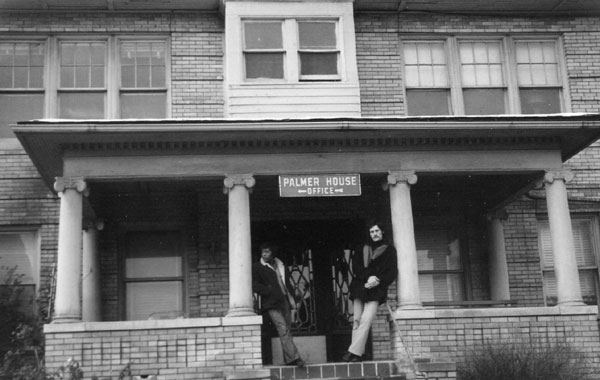 "Photo of Palmer House taken late 1972 (31 years ago!)
with Ken H and Mike C"-Dorene BS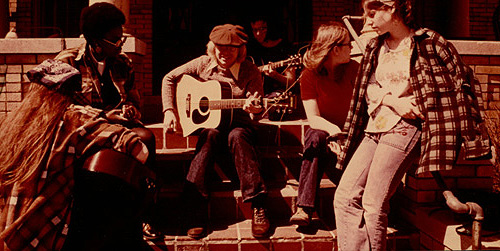 "Here's one picture taken on the steps of P-House. The girl with her back to the camera is, I think, Karen McNally, then Pam Smith, Mike P in the middle, George H behind him, Judy All next to Mike and ...I can't remember the girl looking on. She lived there too for a while. On the second or third floor I think." -Kenny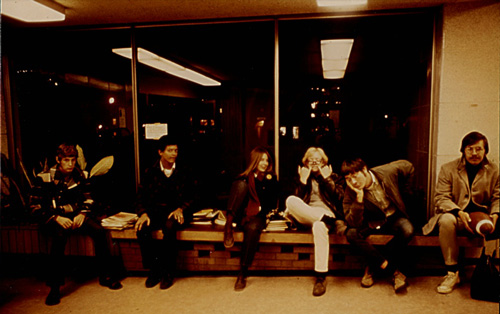 "Here's one taken on the ledge ....at night, as you can see. Tried to adjust color for fluorescent lights.... ....hmmmmm....
Anyhow...from left to right....
Don Long, Earl Bostic, Sherri Piet, Mike Piotrasch, Rich Tschirhart and Dennis Staszak" -Kenny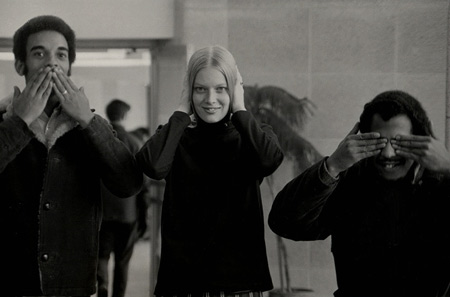 "Okay, the b&w is, from left to right, Larry, Pegge Hubel, and Tony Lloyd. Approximately around 1969/1970. " - Ken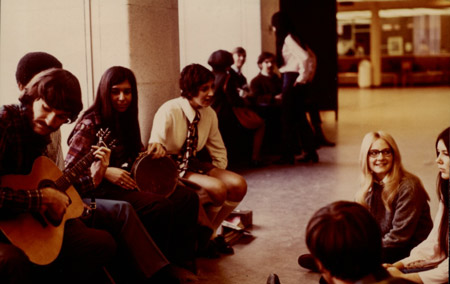 "This is one of those impromptu jam sessions that would sprout up around the ledge. The guitarist is a fellow named Art Ramsey (excellent musician), the top of a head behind Art is Earl Bostic, next to them with the drum is Carol Haddad, next to Carol is Penelope (Penny) Gannon, on the floor is Sue Dengiz with the glasses, the girl next to her, her name escapes me right now, and the back of the head is Rich Tschirhart. Way in the background on the other ledge, with the mustache is Paul Barach (art student). Not sure of the rest of them. About '69-'70
Ah yes, those were the days..... " Ken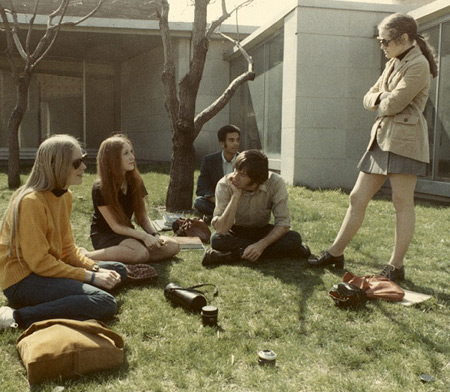 "From left to right once more..Pegge Hubel, Sue Latham, Rich Tschirhart, in the background by the tree, Larry Moore and standing Debbie Messer. This was taken on the lawn right outside the ledge. Approximately around 1969/1970. There was no date on the photos but I'm basing this on around when I met Susie and Debbie in the photos. I know we met Larry and Mike Piotrasch around 1968-69, so this is around that time." - Ken
"Julie, Rich, and Dennis at the Circa" - Julie P.

"Mike, Betty and Ken at the Circa" - Julie P.

(about "72-'73 ? dmm)
"Here's one of my favorites just because of the "mood" taken in the Circa bar....

From left to right.....

The fellow with the beard I think his name is also Ken, have no idea where he is now, in the center is Larry M, Mike P and reading the paper and slightly out of focus is Al Kerkes.

There'll be more.....

Scannin' Ken"
"This was taken at Ipperwash. Our favorite place to hit the beach. Would we go anyplace close? Naw? That's too easy. We traveled at least 100 miles, I think, to get up there in Canada. Great beach though.
Anyhow...from left to right...your's truly, Cheryl Palonis (Scottie), Mike Piotrasch, Rich Tschirhart and Pat Urban. Around '69-70"

Kenny

Diana M. & Carol L. having a silly moment outside WSU's only dorm.

Taken by Ken sometime between 1972-75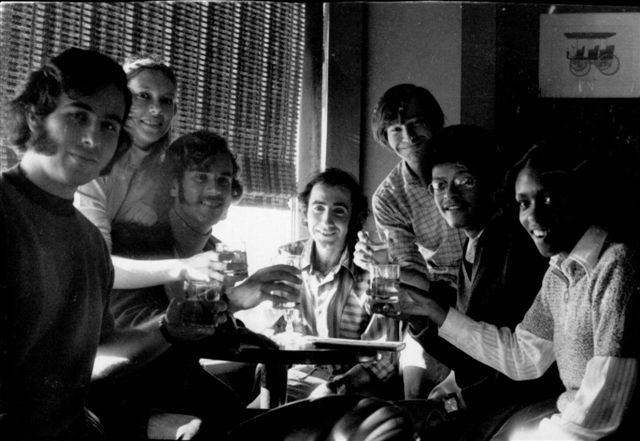 Bob H.,Cheryl P., Bill G., Munir H., Rich T., Earl & Demi ?
Need more info on this photo.
Sand dune jumping! ______, Cathy C., Munir H., Mike P., Darius G. ________, & _________
More info please....
| | |
| --- | --- |
| | Who's party is this? When? and can you help to ID these happy folks? I recognize a few... |
.....and room for more !! Email photos to ledgepalmer@yahoo.com
Please make sure to include names of people, location and approximate dates.
Thanks to those contributing photos!
(I realize that this page is getting longer to load; bare with us for it will evolve! dmm)