Reunion - July 2003
(if photos do not show up, refresh your page)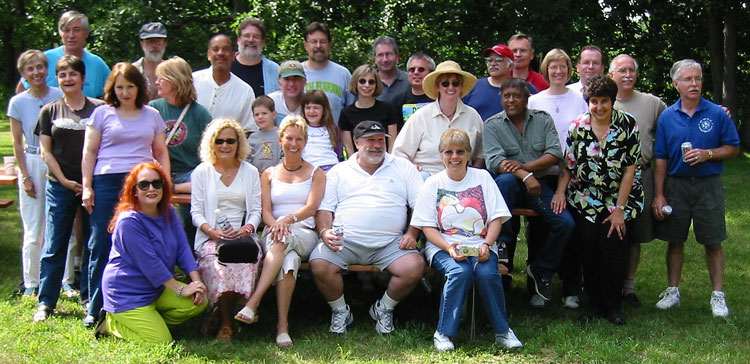 Saturday afternoon Picnic
"Here is the group shot." -supplied by Tom R (taken by Erica R, absent from photo?)
1 Cindy G
2 Anna R
3 Rich T
4 Connie Hall
5 Larry N
....Jessie's friend
6 Becky
7 Sue L
8 Debbie M-M
9 Larry M
10 Tom R
11 Child of Jim S
12 Cheryl P
13 Jim S
14 Dennis S
15 Child of Jim S
16 Jesse B
17 Diane P
18 Mike M
....w/Diane P
19 Ralph K
20 Julie P
21 Carole Jo D-C
22 Ken H
23 George H

24 David G
...husband of Pegge

25 Pegge H-G
26 Allen K
27 Carol H
28 Ferad A (Fred)
29 Paul B
Thanks Carol D-C, Jessie B, and Ken H for the names!
Put your cursor on each face
and please let us know of any errors by either emailing ledgepalmer@yahoo.com
or leaving a note on the message board. Thanks. :-)
---
Memories of Friday Night at TJ's & the Next Day's Picnic
Sent in by Ken but rumor has it they were taken by Mr. Julie P.
Please help clarify this so credit is where credit is due.......
---
Check it out !!! Ledge-Palmer Reunion article:
or
find it directly at: http://www.dev-alumni.wayne.edu/alumni/magazine/2004/winter/getback.php
or
check out the pages here at the Ledge-Palmer site (large jpgs, so please wait for them to load):
http://ledgepalmer.tripod.com/lp_in_magazine.htm
or press:
---
You are visitor: